Frank J. Beitel Lumberyard
Joseph Beitel made the journey from Germany in 1890, to start a new life inTexas. His family helped establish the lumber industry in the southwest United States. Joseph's son Frank founded a lumberyard on East Commerce Street in San Antonio. When the SA&AP railroad decided to make Kerrville the last stop on its line, he came here and purchased "two acres of land more or less" along the tracks to establish a new yard. That lumberyard operated continuously for 103 years, making it one of the oldest yards in Texas.
When Mr. Du Menil sold the property to Mark and Linda Stone in 2007, it underwent a major renovation including taking down the lumber bins (because they were not built on foundations, the bins could not be saved). The salvaged structure is now called The "Old House" of Beitel and used as Rails Events Hall for catering, business meetings and other special events.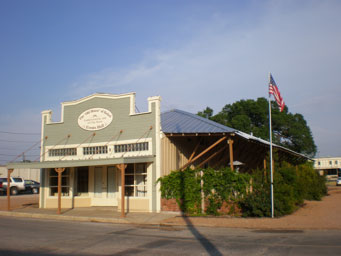 Business Name Changes
May 6 1889 - Frank J. Beitel Dealer in Lumber, Doors, Sash, Blinds, Cedar
December 1912 – Kerrville Lumber Co.
October 22, 1941 – E.E. Saenger Lumber Co., Inc.
1947 – Parker Schreiner Lumber Company
November 2, 1959 – Simms Moore Lumber Company
1965 – Hill Country Lumber & Hardware Co. Inc., Owner Gus Du Menil
2007 – The "Old House" of Beitel
Albert (Alley) Beitel Jr.
---
Click to toggle additional content...
Kerrville Times - 1933
Kerrville, Kerr County, Texas
Ally Beitel, 44, Kerrville Civic Leader, Is Dead
Prominent Business Man of City Laid to Rest Monday Afternoon
Hundreds of sorrowing friends Monday afternoon joined in a final tribute to Ally Beitel, 44, prominent Kerrville business man and civic leader, who died at a hospital Sunday at 4:30 p.m. following an extended illness. The last rites were held from the First Presbyterian Church, with Rev. Paul S. Van Dyke, the pastor, officiating. Burial was in Glen Rest Cemetery under direction of Peterson's Funeral Home.
Active pallbearers were: Dr. H.Y. Swayze, S. Eastland, W. Scott Schreiner, A.C. Schreiner, Jr., Charles Rawson and E.H. Prescott. Honorary pallbearers were commissioned officers in the cadet corps at Schreiner Institute.
Kerrville's deepest sympathy was reflected by the long cortege that followed the earthly remains of Ally Beitel to Glen Rest, and the great profusion of flowers banked high upon the mound stood out as mute evidence of the esteem he had gained during his years of tireless service to the city and its institutions.
Mr. Beitel had been in failing health for several months and recently underwent three operations, the last one Friday; but the best medical skill proved unavailing and a courageous fight to regain his health was lost when he passed away Sunday afternoon.
The city has had few citizens who were identified with so many lines of civic endeavor as was Ally Beitel. He was an indefatigable worker for any cause that he championed and his optimistic nature often inspired those with whom he was associated.
All Beitel was born in San Antonio, August 29, 1888. After receiving his education in schools of that city, he became associated with his father, the late Albert Beitel, in the lumber business. The firm maintained a number of retail yards in Southwest Texas and Ally Beitel came to Kerrville in 1909 to accept employment in the branch yard here. He later became the directing head of the business and during his 24 years residence in the city filled many positions of honor and trust.
He was past president of the Rotary Club, past president of the Chamber of Commerce, past president of the Kerrville Country Club and past master of Kerrville Lodge No. 697, A.F. & A.M. At the time of his death he was a member of the Schreiner Institute board of trustees, a member of the City Water Board and an officer of the First Presbyterian Church. He served as County Commissioner of Precinct No. 1 from 1922 until 1926.
Surviving are his widow, Mrs. Freddye Beitel and three daughters, Mrs. C.R. Gordon of Mathis, Miss Geraldine Beitel and Betty Jo Beitel, Kerrville. Other survivors include two sisters, Mrs. E.L. Penalosa of New York City and Mrs. Helen Thurman of San Antonio; five brothers, Roy M., Jesse J., Frank O., George D., and R.L. Beitel, all of San Antonio.
Below is an excerpt from a book about Ally Beitel's father, Albert, and the connection to Frank J. Beitel and lumberyards in San Antonio.
A Twentieth Century History of Southwest Texas, Volume 1
by Lewis Publishing Company 1907
Albert Beitel, who is engaged in the lumber business in San Antonio, his native city, was born in 1856, and is a son of Joseph Beitel, also a native of Germany, who died in San Antonio in 1890. The family was founded in this state at an early period in it's development and progress, and the name Beitel is intimately associated with the history of the lumber business in the southwest. The The business with which Albert Beitel is now connected was established by his eldest brother, Frank J. Beitel, now deceased, in San Antonio, in 1963, The yards being located on East Commerce Street about where the Ludlow House now stands, from there the yards were removed to North Flores Street, and in 1878 to the Sunset Depot and in 1880 to the present location on Commerce Street near the I. & G.N. Depot. The founder of the business passed away in 1899. For a number of years the firm name was F.J. Beitel and Company but after the death of the founder the business reorganized under the name of the Beitel Lumber Company. Roy M. Beitel, son of Albert Beitel, is also a member of the firm and is now manager of the San Antonio office. In addition to the plant in San Antonio the firm has a large yard at Kerrville and is in every way a prominent and representative institution of the lumber industry in Texas. Pages 471 & 472.
Robert Saenger
---
Click to toggle additional content...
Robert Saenger ran the lumberyard in partnership with H. V. Scholl. Later Roberts son Emile owned the yard and named it E. E. Saenger Lumber
The Kerrville Times Volume 43 Kerrville, Kerr County, Texas, Thursday, Nov. 8, 1951 Pioneer Kerrville Merchant, Robert Saenger, Sr., 86, Dies Thursday; Services Friday at Zion's Church
The community grieves today over the loss of one of its most respected citizens and pioneer merchant, Robert Saenger, Sr., 86, who passed away quietly early this morning in Sid Peterson Memorial Hospital. He had been a patient only a few days, following a stroke Monday at his home, 624 Clay Street.
Funeral services will be held Friday afternoon from the Zion Lutheran Church at 2:30 o'clock with the Rev. Walter C. Probst officiating. Interment will be in Glen Rest Cemetery under direction of Smith Funeral Home.
Pallbearers will be Hilmar Pressler, Emil Baethge, Victor Pressler, John Klingemann, Charles Arnecke and Leroy Brehmer.
A native of Fredericksburg, he was born January 18, 1865. He grew to manhood and came to Kerrville before the turn of the century 62 years ago. Entering the grocery business he operated his store during the early growth of Kerrville and the development of the Hill Country. During recent years, and in failing health, Mr. Saenger continued to operate a small neighborhood store adjacent to his home on Clay Street, and was always alert to the fast-moving events of the community and national affairs.
He was preceded in death by his wife, August 26, 1933.
Survivors include seven children, E.E. Saenger of Kerrville, Robert W. Saenger of Little Rock, Ark., Herman Saenger of Fort Stockton, W.F. Saenger of Houston, A.A. Saenger of Kerrville, Mrs. Garland Weisiger of Houston, and Mrs. Guy G. Griggs of Kerrville; a brother, William Saenger of Fredericksburg; six grand-children and five great-grand-children.
Old Letters
---
Click to toggle additional content...
When we started working on the old Lumberyard in 2007, we found many old papers in the attic space. Hundreds of personal receipts, ledger books, bundles of sales receipts and more. Gus Du Menil, who had owed the business and building since 1965, had also found some interesting things. Among those was a group of letters that he gave to us. The earliest one we have is dated February 15, 1890. Here are six old letters. Look at the postmarks as we glimpse into the past.
---
"Be a Better Boy"
February 15, 1890
H.V. Scholl
Kerrville, TX
Friend Henry
Yours of the 13th to hand and freight bills as well as your statement for shortage of sash- forwarded to B. F. & Co. for credit. I have looked over my files and I do not find any invoice for car #213 I. M. & S from anyone. However I guess the owner will turn up and if he does not why we are just that much ahead that is all ___ as for your great big ____ about 6" of snow, you must furnish us proofs as the boys say you either had the nightmare or else, measured a hole in the ground on the north side of the house. Go to Sunday school and try to be a better boy Henry.
--- Yours Ally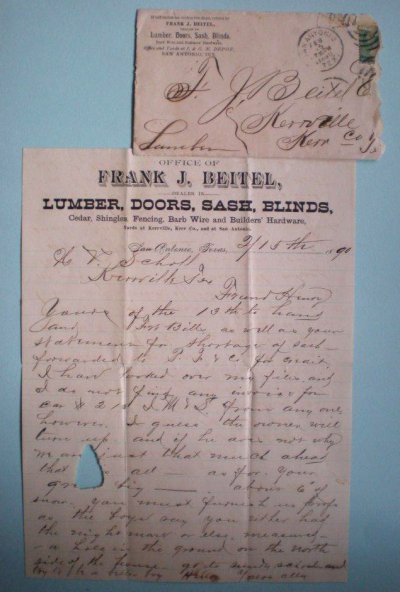 ---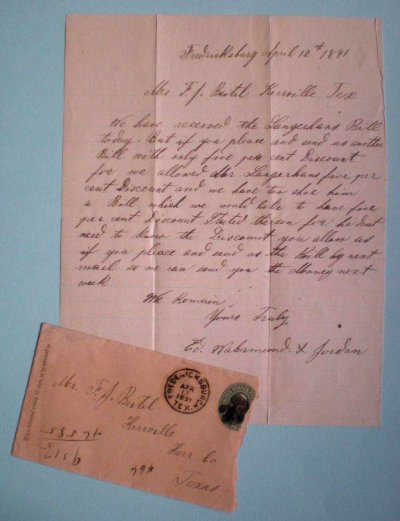 "The 1891 Kick Back"
To: Mr. F. J. Beitel
Kerrville Kerr Co Texas

Postmark: Fredericksburch Tex.
Apr 12, 1891
Mr. F. J. Beitel Kerrville Tex
We have received the Langerhaus bill today. But if you please and send us another bill with only five percent discount for me allowed Mr. Langerhaus five percent discount and we have to show him a bill which we would like to have five percent discount stated theron for he don't need to know the discount you allow us if you please and send us the bill by next mail so we can send you the money next week.
--- We Remain Yours Truly,
--- E. J. Wahrmund. X Jordan
---
"An Estimable Lady Schoolteacher"
To: Henry V. Scholl, Esq.
Kerrville Texas

Postmark: Fredericksburch Tex.
Apr 12, 1891
Dear Sir:-
Allow me to address you as Alderman of the City of Kerrville. I believe you are in need of two or more assistant teachers for the coming school session.
Miss Matty Wiley of Fredericksburg is trying to secure a suitable position as teacher and is going to apply for a place in Tivy High School. Miss Mattie who studied under me for one year is an estimable lady, well qualified to teach any branch in the common school course. She is thorough, painstaking and of an amiable disposition, and although she has had no experience in teaching I feel sure she will make an excellent teacher. She is fully able to obtain a second grade certificate.
Anything you should do for her will be highly appreciated.
--- Respectfully Yours,
--- J. F. Roege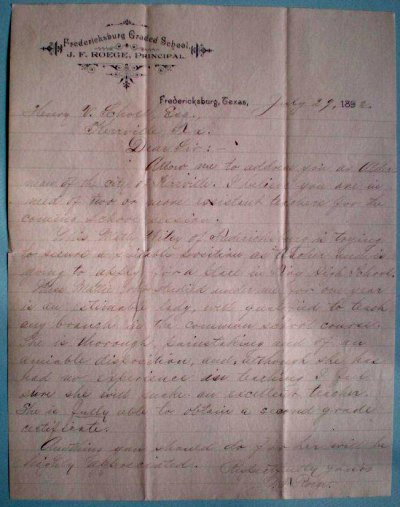 ---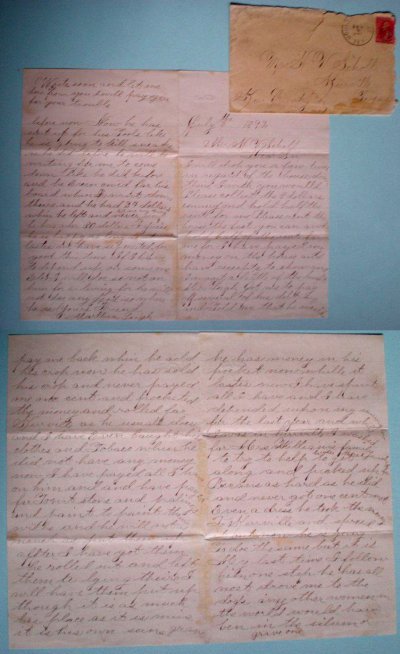 "He has almost drove me to the dogs!"
To: Mr. H. V. Scholl
Kerrville Texas Kerr County

Postmark: Mountain Home Tex
On July 9, 1892
Dear Sir,
I will drop you a few lines in regards of the house down there I wish you would please collect the 8 dollars coming and hold half the rent for me. Please rent the house the best you can and hold half of the rent for me for I have paid my money on the house and have receipts to show and I want a little of the benefit. Mr. Leigh got me to pay off several of his debts and told me that he would pay me back when he sold his crop. Now he has sold his crop and never paid me one cent and pocketed the money and rolled for Kerrville as he usual does and I have even bought his clothes and tobacco when he did not have any money. Now I have paid all I have paid on him and have paid for front stone and railing and paint to paint them with and he will not as much as put them up. After I have got them he rolled out and left them a lying there. I will have them put up though it is as much his place as it is mine it is his own son's grave. He has money in his pocket now while it lasts now I have spent all I have and I have depended upon my son-in-law for the last year and while I was in Kerrville I washed for Mrs. Williams family, besides others I washed for, to try to help to get along and picked up pecans as hard as he did and never got one cent not even a dress. He took the money to Kerrville and spread it out. Now he is going to do the same but it is my last time I follow him one step, He has all most drove me to the dogs. Any other women in the world would have been in the silum or grave one.
Write soon and let me hear from you. I will pay you for your trouble. Now he has sent up for his tools like he is going to kill snakes as he did before. He will be writing for me to come down like he did before and he even owed for his board when I went down there and he had 34 dollars when he left and never left me anything. Now he has near 80 dollars I guess he is happy as long as it lasts. We have separated for good this time. If I have to depend up on someone else I will do so not on him for a living. For he will not do any good so where he is.
--- Yours Friend,
--- Marthia Leigh
---
"Schmidt's Hotel"
To: Mr. F. J. Beitel
Kerrville Texas

Postmark: Fredericksburg, Texas
August 9, 1892
Dear Sir,
Having secured the advertising privilege on the solid board fence of the Fair Grounds which is situated on the main road from here to Kerrville I beg to call your attention to the fact that it is an excellent place to advertise on and I could give you any space you want at very reasonable rates and would take it out in trade.
An early answer will oblige
--- Yours very respect.
--- W. W. Corley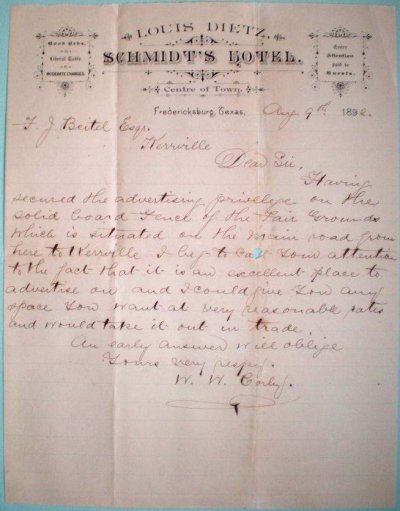 ---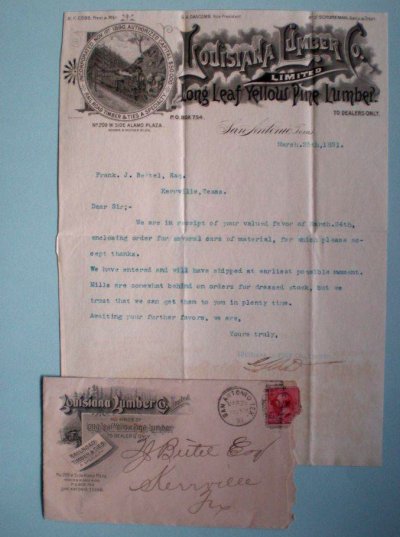 "Louisiana Lumber"
To: Frank. J. Beitel, Esq.
Kerrville, Texas

Postmark: San Antonio Tex
March 26, 1891 3:30pm
Dear Sir;-
We are in receipt of your valued favor of March 24th, enclosing order for several cars of material, for which please accept thanks.
We have entered and will have shipped at earliest possible moment. Mills are somewhat behind on orders for dressed stock, but we trust that we can get them to you in plenty time.
Awaiting your further favors, we are,
--- Yours truly,
--- Louisiana Lumber Co., Limited
Chain of Ownership
---
Click to toggle additional content...
Abraham O. Beck & Wife Rebecca Eliza Beck of Boone County Indiana to;
Abraham O. Beck of Gonzales County Texas, January 1, 1856 for the sum of $500
"…All that certain piece parcel and tract of land situated lying and being in the County of Bexar State of Texas bounded and described as follows to wit: 640 acres of land originally granted to Benjamin F. Cage and known as survey No. 116 in section No. 2 situated on the Guadalupe River about 55 miles NW from San Antonio beginning at a cypress 12 inches diameter For the upper corner of No. 115 and the lower corner of this survey from which a cypress 11 in diameter bears N 55&2 4/5 vs another 10 in diameter bears S 32' E 2 4/5 vs hence N 45 E 3881 vs to a stake and mound thence W 45 W 950 vs to a stake and mound thence S 45' W 3719 vs to a stake on the bank of the river for the upper corner of this survey from which a live oak 15" in diameter bears N 51 ½ E 46 vs another 12" diameter bears W 30 E 37 3/5 vs thence down the river with it's meanders to the place of the beginning bearing marker Together with all and singular the sights numbers hence witht amulets and appurtenances to the same belonging as in any wise incident as appertaining to have and to hold all and singular the premises above mentioned unto the said Abraham O. Beck…"
(Linda Stone's paternal Grandparents, Charles and Ilo Beck, lived in Ohio most of their lives but did live and work in Ft. Wayne, Indiana for a time. She may be a distant relative to the original land owners….maybe!)
---
Abraham O Beck of Gonzales County Texas to;
Joshua D. Brown of Gonzales County Texas
September 20. 1858 for the sum of $1500
---
Joshua D. Brown of Kerr County Texas to;W. B. Hendrix of Kerr County Texas
For the sum of $250 October 18, 1858
"…to wit Block No. 3 in the town of Kerrsville county and state aforesaid also the ½ block No. 111 in the town of Kerrsville County and State aforesaid excepting lot No. 13 in Block No. 3 that was deeded for a church and 100 feet square off of the front of lots No. 56 & 57 of said block No. 3 to have and to hold …"-1 to 16 except 13 (book A page 337)
---
W. B. Hendrix & Prudence Hendrix to;
L. S. Ballard for the sum of $500 December 20, 1858 (Book A Page 384)

---

C.A. Ballard & wife L.S. Ballard of Kerr County to;
Hance M. Burney of Kerr County
for $150 on August 17, 1859 (Book B Page 28)

---

W.D.C. Burney & wife Martha Burney of Kerr County to;
Frank G. Beitel of the city of San Antonio, Bexar County
for $800 on May 6, 1889
"…certain lot or parcel of real estate situated in the town of Kerrville Kerr County Texas, the same being part of original survey No. 116 in the name of B.F. Cage described as following to wit: The north east half of Block No. 3,in said town of Kerrville lying along and a joining North Street about 420 feet, and bounded on the north west by Clay Street and on the South East by Tchoupitalas Street, containing two acres of land more or less."(Book N page 422)
Signed by W.G. Garrett County Judge Kerr County Texas (Book B Page 28) or (Book N Page 422)
---
C.F. Beitel to Albert Beitel Sr. July 23, 1912 (Book 32 Page 177)
---
Albert Beitel Sr. to Beitel Lumber Company on March 13, 1919 (Book 37 page 50)
In 1922 Ally Beitel (Albert Jr.) assumes ownership and changes name to "The Old House of Beitel"
Affectionately called the "Old House", he died in 1933 at age 44.
Albert Beitel owned the yard; it was run by Henry V. Scholl and Robert Saenger,
Ally Beitel then owned it and sold to Robert's son Emil Saenger.
---
San Antonio & Aransas Pass Railroad Company to
the Beitel Lumber Company Track Aguit October 3, 1912 (Book 39 Page 527) filed September 24, 1921
---
12-1921 Beitel Lumber to Kerrville Lumber 11-14-1932 Kerrville Lumber to
Chas. Schreiner Bank for $9.500
Mountain Sun Obituary November 15, 1951; Robert Saenger worked for Beitel Lumber, later owned and operated the Mosel Saenger Grocery on Clay Street. Later he had a small community store in the corner of his yard on Barnett and Clay until his death. Fond of music, his home was one of the musical centers of the community. He loved nature, his yard and garden, his trees and flocks of pigeons.
According to article 1986- Established in 1888 as F.J. Beitel Lumber Company managed by H.V. Scholl in partnership with Robert Saenger Sr.. When Scholl died the business was taken over by Ally Beitel later sold to Emile Saenger, son of Robert, who renamed it E.E. Saenger Lumber Company. Sold in 1947 and named Parker Schreiner Lumber Company. Sold in 1958 to Kenneth B. Moore of Dallas renamed Simms-Moore Lumber Company managed by Gus Du Menil. He purchased the company in 1965 and the name changed again to Hill Country Lumber & Hardware Company. Gus changed the business to "Peddlers Square" opened May 29, 1993.
* Operated as a Lumber Yard from 1889 to 1993, 104 years!
---
L.A Schreiner a single man to Simms-Moore Lumber Company for $15,000, 5%
November 2, 1959 (Book 106 Page 285-6)
And for $15,000 September 3 1965 (Book 6 Pages 86-87)
---
Simms-Moore Lumber to Gus Du Menil 1965
---
Gus & daughter Debra Du Menil (Hill Country Lumber & Hardware Company) to
Mark & Wife Linda Karst Stone on July 2, 2007
The property then went through the major restoration to become the Events Hall you are standing in today.