Dietert Mercantile
Built by James Spicer circa 1884
From Water to Clay
History, Saving, & Moving Structure from 433 Water Street to 425 Clay Street
A mercantile for the Dietert Brothers, Becher, D. R. Williams and Smith until 1916, it was most often referred to as the "Old Dietert Stand." Louie Schreiner then purchased it and used it as a recreation center for his children. Renovations added a new fireplace and longleaf pine floors as bowling, ping pong, and dances were held in the "Schreiner Bowling Alley." The next major change for the building came in 1926, when George Morris converted the space into apartments (the same three spaces we have today). The apartments several owners included Mr. & Mrs. J. M. Johnson of Edinburg, Texas (who had operated a dining car service on a Northern Railroad for several years) and Queen Jones Dowd who lived there until she passed away in 1978. There are gaps in our research; however, we know some of its renters included Francisco's Restaurant, Cartwheels Catering, Gael Dahse's Dress shop, a travel agency, and Dale Elmore's "Warrior North Fork Investments." The property was sold to the City of Kerrville in October of 2000.
To accommodate the Butt Holdsworth Library expansion, the building at 433 Water Street had been scheduled for demolition for several years. City Council would decide to save or tear down the building at a council meeting April 26, 2011. There was discussion that the building "was of little architectural or historical significance." Mayor David Wampler spoke of how in the past the City had been criticized for not saving old buildings. When the vote finally was taken for item 3E on the agenda, the Council wisely approved to save the structure from demolition. A site plan was submitted and approved. 433 Water Street was moved a quarter of a mile on June 30, 2011, to its new home at 425 Clay Street.
For more details:
PDF of the City Council meeting notes
Video of the building leaving 433 water Street on its ¼-mile journey
I drew this sketch in early May 2011 of what the building might look like. Our wonderful workers came very close!
-- Linda Karst Stone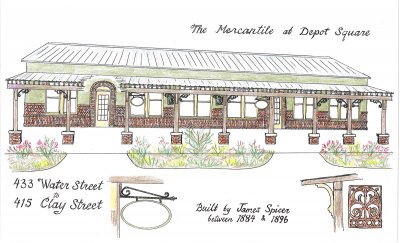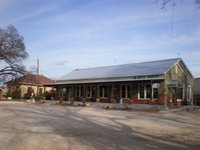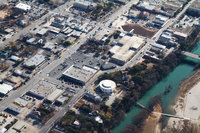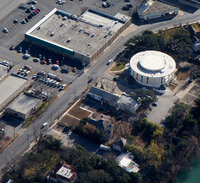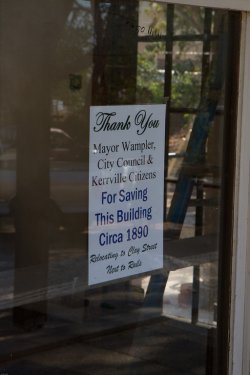 City Council Meeting - April 26, 2011
During the meeting shown below, City Council granted approval to Mark & Linda Stone to move the Mercantile from 433 Water Street to the current Depot Square property. After some discussion it looked like the vote would be to not save it. Mayor Wampler had kind words to say and invited Mark to speak. The final vote was 4 to 1 to save it. Full video is just over 23 minutes.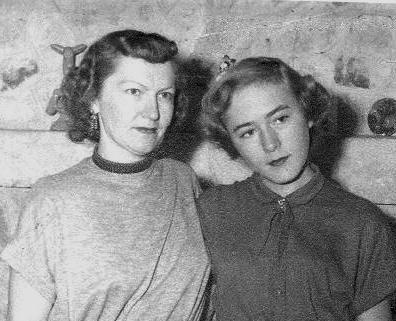 Do you remember the Television show, If Walls Could Talk? I loved to watch them tell stories about homes past. This section is about anyone who lived or worked in these old buildings who want to share bits of history. If you have a story to add please let us know. We hope this section continues to build and reveal a bit more to remember and honor.
More on Talking Walls
James Spicer
---
Click to toggle additional content...
James Spicer bought land from Charles Schreiner July 22,1884 for $150 "cash in hand" according to the deeds at the courthouse. Mr. Spicer was a prominent and well loved man in the Kerrville area and aquired over 3,000 acres of ranch land out on Turtle Creek. He sold the water Street property October 2,1896 for $1,450 to the three oldest Dietert brothers (Theodor F. W., Emil Emanuel and Edward) the year after their father, William Dietert passed away. From the price increase, we assume Mr. Spicer built the original wooden structure with it's deep basement of hand cut limestone rock walls and dirt floor to keep things cool in the summer. Mr. Spicer's relationship to the building had been lost through time and only recently re-discovered. The Dieterts operated a mercantile at 433 Water Street for many years. It was commonly known as the "Dietert Stand". Below are images of Mr. Spicer's family and home place. The article and obituaries offer unique insight to Kerrville's past through the lives of this pioneer family.(Images and captions courtesy of James Spicer's grandson, J.M. Mosty.)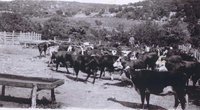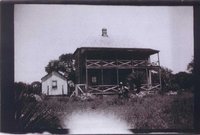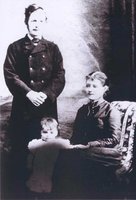 Mosty & Spicer Families known for expertise with plants and artistic contributions.
Family tells tale of last wild Indian in county
Click to toggle additional content . . .
This article is used with permission and was printed March 8, 2006 as one of the Pioneer Stories to celebrate the Kerr County Sesquicentennial.
Hill Country Community Journal
By Bonnie Arnold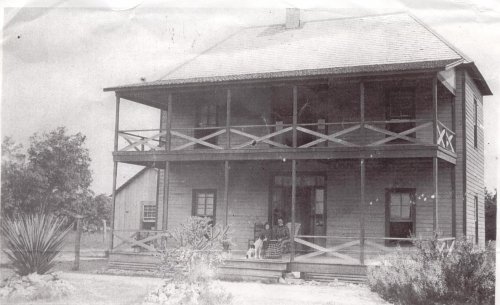 Wheeler Mosty of Kerrville has been keeping track of Mosty and Spicer family histories for years, and his collection includes the tale of the last live wild Indian seen in Kerr County.
This is how he tells it.
"In the late 1890s, a band of Kerr County Militiamen and Texas Rangers were trailing some marauding Comanche Indians in the hills south of Kerrville. The chase stopped near the Spicer Ranch, owned by Mosty's grandfather James Spicer.
"The local lawmen reined in at the family's ranch house.
"There is a large mountain not far from the house, about three miles away. On the side facing the house is a sheer cliff with a long drop.
"Suddenly a tiny form appeared on the top of the cliffs, silhouetted in the sun. It was an Indian. He stood there in plain view for a while.
"Then he turned and left. And that was the last wild Indian ever seen in Kerr County."
Other family stories
Lee A. Mosty, Wheeler's grandfather, was a trader in cattle who worked his way from Kansas to Lampasas, where he married Elizabeth Bean in December 1881. The couple then moved to Menard and eventually to Kerr County.
Wheeler said his grandfather's homestead was just east of the current Schreiner University campus.
"He bought the land and brought the rest of his family down, but the former owner wouldn't leave," Wheeler said. The Lee Mosty family was forced to camp out a full winter near the river with no amenities before they could claim their new home.
Lee started a nursery, and it grew to include pear and apple orchards, and ornamental trees and shrubs. Wheeler said the business grew from L. A. Mosty reselling stock. Among his achievements was a hybrid of native Nandina to create an ornamental shrub that still grows here.
From a family history compiled by Harvey Mosty, one of L.A.'s sons, Harvey gave this account:
"When we came back here from Lampasas in the fall of 1897, we brought a sack of old Indian peach seed. I planted them southeast of the present well, down in the field where the two pecan trees now stand. These pecan trees were planted from nuts given to me by Mr. Hy Welge. They were from the Oliver tree near Junction. The peach seed came up and Lee and I budded them. A friend named Mr. Jump showed us how to bud a tree. The buds did very well and we got a nice lot of trees out of the planting. This was the start of the L.A. Mosty & Sons Nursery. Most of the trees were planted on the farm; however some were sold to neighbors."
L.A. Mosty later found a place below Center Point that he liked and expanded his business to two nurseries. Son Lee ran the one in Center Point and Harvey was in charge of the one on the Bandera Highway. Harvey's family history says the first year's sales in 1908 at the Center Point Nursery totaled $309.21.
"It was not a flower shop at first, mainly trees and shrubs," Wheeler said. "The whole family is good at anything dealing with plants."
Some did go into other jobs. Sam Mosty founded Mosty's Garage in Kerrville in 1926, and sons Leroy and Tony run it now. It's one of the oldest continuously operated businesses in Kerr County.
Wheeler said others worked for the U.S. Post Office and some were ranchers.
Floods and family art
Wheeler recalled that in July 1932 he was just a kid and State Highway 27 East was a lot lower near Quinlan Creek and the Legion Hospital (now the Veteran's hospital) area.
"The road used to curve down to where Riverside Drive is now. That's where the houses washed away," he said.
The San Antonio & Aransas Pass railroad tracks ran along what is now North Street, across a bridge over Quinlan Creek, curved slightly to Schreiner Institute's train station, then east towards Center Point and Comfort, he said. (There also were train stations at the VA hospital and at Center Point.)
"Our house was on the river side of the tracks and my grandmother lived on the upper side. On July 2, 1932, I was down at the highway watching for the wall of water to come that they predicted. It was just rolling when it came and I saw trees and parts of houses, taking everything with it. The debris collected a little further down and slowed it," Wheeler said.
"Then the water kept rising and I was standing at the highway with instructions if the water came over the highway to head for the hills," he said, adding that his mother was at home up the hill expecting a baby any time. "When that debris dam broke, it took out all those houses along Riverside Drive."
Wheeler said no one was killed in that flood at Hunt, where most of the rain came, or at Mosty's and downstream from there, only in Kerrville.
"My father claimed the 1900 flood was worse. He used to point out a large cypress log sitting too high for anyone to have carried it there. He claimed that was 8 feet higher than the flood in '32," Wheeler said.
On the Spicer side of the family, artist James Spicer was an oil painter and collected paintings by other artists, Wheeler said. One of the family treasures is a large oil painting titled "Execution Without Judgment."
Wheeler said its set in ancient Persia and portrays a eunuch who beheaded a carpet layer hired to work in the palace, for an accused offense, and then found the dead man was his brother, Mosty said.
Wheeler said they also have a watercolor English street scene on paper, painted by James Spicer's father, Joseph Spicer, and a self-portrait of James Spicer.
Mosty said his Grandfather Spicer and an uncle also grew their own tobacco on their farm and smoked it.
Family ties
L.A. and Elizabeth Mosty had eight children between 1892 and 1904: Lee, Harvey, Elizabeth, Mark, Addie, Karl, Evlyn (Sam), and Ruth.
L.A.'s daughter Elizabeth "Lizzie" Mosty married Jim (James Saint Aubyn) Spicer, the son of the English artist and Kerr County emigrant James Spicer.
Wheeler's parents are Mark and Mai (Spicer) Mosty, and Wheeler is one of four children. Brother John Milford and sister Trilby live in Kerrville and brother Joe lives in College Station.
Wheeler is related to England's Lord Horatio Nelson through his mother and his maternal grandmother Ruth Nelson Spicer.
John M. Mosty said he remembers his Uncle Harvey pecking away (mainly with his right forefinger) at an Underwood typewriter to make eight carbon copies of that family history for his brothers and sisters.
Wheeler married Pauline Evans in March 1951 and the couple has a son and a daughter and two grandchildren.
---
James Spicer, Early Settler in Kerr, Dies
Click to toggle additional content . . .
The Kerrville Times
Thursday, December 2, 1937
Volume 29 Kerrville, Kerr County, Texas
James Spicer, Early Settler in Kerr, Dies
Last Rites for Native of England, Who Lived in County 58 Years Held Saturday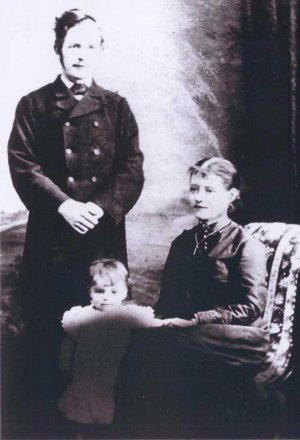 Death closed a remarkable career when James Spicer, 80, native of England, passed away last Thursday at his ranch home on Turtle Creek, nine miles south of Kerrville, where he had resided for the past 58 years. His long and eventful life included spheres as widely separated as the two continents where he spent it. As a talented youth, he mingled with the leading artists of that time in European centers, and yet within a few years he was a West Texas pioneer aiding other hardy souls to carve civilization out of the wilderness.
Funeral services were held Saturday afternoon from St. Peter's Episcopal Church, with the rector, Rev. F.M. Brasier, officiating. Burial was in Glen Rest Cemetery under direction of Fatheree Funeral Home.
Honorary pallbearers were five grandsons, Louis and Reuben Loeffler of Junction, Patrick Macdowell of Dallas. Wheeler Mosty and Jimmy Spicer of Kerrville, and Felix Real Jr.
Honorary pallbearers were: Walter Real, Arthur Real, Gus F. Schreiner, L.A. Schreiner, Dr. P. J. Domingues, Judge Lee Wallace, Judge John S. Atkins¸ R. Holdsworth, A.B. Burton, A.B. Williamson, E. Mosty, Karl Mosty, J.S. Wheless, Garland Lang, Tom K. Carr, all of Kerrville; Arthur Real, H. Becker, Jr., Dr. Wagner, Dr. Frank LaGrange, all of San Antonio Chas. Real of Austin and Tom Codrington, Comfort.
Senator Julius Real, a life-long friend and neighbor, paid a beautiful tribute to the deceased at the graveside.
Judge Lee Wallace, an intimate friend of Mr. Spicer paid the following tribute: "For 41 years I knew Judge Spicer. He was among the first I met upon my arrival in this great Southwest and with an open hand and an open heart, he gave me a warm welcome to his "Hill Country." Out of that first meeting sprang a friendship that has grown stronger through the years. Few men made as close and lasting friendships as did Judge Spicer and no one appreciated friends more than he. He possessed a deep love for all mankind and exhibited that love throughout his long and useful life. He was a good man, a good citizen, a good husband, a good father, a faithful friend, a blessing and benediction to the world."
"He is gone but has left us this consolation, that his clean and upright life will be an inspiration to those who knew and loved him. With all the rest, his death leaves me under the shadow of a great sorrow."
Born December 24, 1856, in London, Mr. Spicer enjoyed all the advantages of a youth in a cultured English home. His father, Joseph Spicer, was a prominent architect in London, who was commissioned by the British government to design and supervise the building of the Crystal Palace. This famous structure, one of the leading attractions at the first world's fair ever to be held, was destroyed by fire only a short time after finishing his college courses in London, through the offices of the British ambassador to France, he obtained a membership in the Institute of France where he studied art under the masters of the brush and easel gathered at Paris. One of his fellows at the institute was a young Frenchman, Ferdinand Foch, who was destined to rise to the position of Marshal of France and become one of the outstanding figures of the World War.
After leaving Paris, the young Londoner went to Scotland to accept a professorship in Kelso College. There he became a life member in the Scottish Rite order of the Masonic Lodge.
Three years after his marriage to Miss Ruth Nelson, daughter of a British Army officer, the young couple decided to cast their lot in a new country. London publications of that era were filled with adventurous stories about West Texas and the opportunities for young Englishmen. In 1879, Mr. Spicer and his young wife reached Kerrville and within a short time were settled on a 320 acre homestead he purchased on Turtle Creek. This original home was the same place where he passed away, although in later years he acquired considerable other land holdings.
In the decade following the arrival of the Spicers in Kerry County, large numbers of their friends and acquaintances came to join them. By 1890 there was a sizeable colong of Englishmen and Scots in this section, and this group has contributed much to the cultural advancement and general progress of the Hill Country area in the intervening years.
Fresh from the art galleries and class rooms of London and Paris, James Spicer assumed his new role of West Texas pioneer with determination characteristic of the true Briton. He is credited with building the first barbed wire fence in this part of the country. While on a trip to San Antonio, made by wagon, he saw a salesman demonstrating the new product on Alamo Plaza. He promptly bought some of the wire, brought it home and stretched it to enclose a portion of his new home place. This was in 1881. The late Casper Real and Mr. Spicer at about this same time introduced the first Hereford cattle into Kerr County when they purchased a few head from a relative of Mr. Real, who was then ranching east of San Antonio.
While he carried on the pursuits of a ranchman, Mr. Spicer throughout his life maintained a keen interest in art. As the years unfolded, many beautiful landscapes of the hills in spring and in autumn came from the brush in his deft fingers. His collection at the time of his death included not only many of his own paintings, but the works of several renowned artists.
Aside from his duties on the ranch and the hours he devoted to his art, Mr. Spicer found time to serve for many years as a justice of the peace. In this capacity, he married the heads of many of the older families of the county. He buried the dead when a minister was not immediately available, and occasionally set fractured bones for his neighbors when a physician could not be reached.
Surviving are three daughters, Mrs. Harry Crum of El Reno, Oklahoma, Mrs. Muriel Macdowell of Dallas and Mrs. Mark Mosty of Kerrville, and one son J.S.A. Spicer of Kerrville.
Preceding the octogenarian in death were his wife, Mrs. Ruth Nelson Spicer, his eldest daughter, Mrs. Emil Loeffler, and his youngest son, Robert. The son died overseas during the World War and now sleeps in the American Cemetery at Finistierre, France.
Out of town relatives here to attend the funeral rites were: Mr. and Mrs. Harry Crum of El Reno, Oklahoma; Mrs. Muriel Macdowell and son, Patrick, of Dallas; Mrs. James Walraven, a granddaughter, of Fort Worth; Emil Loeffler and sons, Louis and Reuben, of Junction.
---
Harvester of Happenings in the Heart o' the Hills
Click to toggle additional content . . .
Thursday, July 26, 1934
Mrs. James Spicer, Pioneer of Kerr, Claimed by Death
After five months of intense suffering during which time she never left her bed, death came quietly at 8:20 Friday night to Mrs. James Spicer, 74 year-old resident of the Turtle Creek community and one of the few remaining pioneering mothers of this section.
Funeral services were held Saturday afternoon at 4:30 from St. Peter's Episcopal Church with the Rev. F.M. Brasier conducting the last services both at the church and at Glen Rest Cemetery, where burial was under direction of Smith Funeral Home.
Senator Julius Real, who assisted in the service at the cemetery, aptly eulogized the life of Mrs. Spicer, especially recalling the hardships which surrounded her in earlier days and the brave reserved manner in which she faced the many problems life placed in her pathway during her residence of 54 years in Kerr County.
Active pallbearers were Louis Loeffler of Junction, Felix Real, Fred Real, Lee Mosty, Bragg Harris and Caspar Real. Honorary pallbearers were A.C. Schreiner, Bert Parsons, Julius Real, Dr. E.E. Palmer, Stanley Coppock, Harry Williams, Emil Loeffler, Mark Mosty, A. Macdowell, Harry Crum, Walter Real, Judge W.G. Garrett and Arthur Real.
Mrs. Spicer was born on December 12, 1856, in Paris, Canada, her parents being English. While still a child of two she moved to England where she grew into young womanhood. She was educated in finishing schools in London and advanced quite rapidly in the field of music, having had instructors from the continent and having been acclaimed as brilliant in her chosen instrument, the piano.
While in London she met and was married to James Spicer, a young artist of promise, in 1876. Soon after her wedding the young couple moved to Glasgow, Scotland, for a period of two years. Then they returned to London.
The new country beckoned with adventure and new life so in 1879 James Spicer left his young wife, with her two babies, and came to Texas to start a new home for his family. He located in Kerr County when Kerrville was a very small outpost of a few crude houses and one general store.
In the spring of 1880 Mrs. Spicer took the long jump from the culture of old England to the raw life of the Hill Country in the early 80's. How admirably she molded her life to fit the changing circumstances which were forced upon her can best be told by reviewing the accomplishments of this reserved English wife and mother during her long stay of 54 year here.
At best, ranch life was crude to this sheltered young woman. She had one of the first pianos in the country and at first kept up her music, her playing being a source of pleasure to all who hear her. But soon cares grew heavier and the keys were uncovered less and less until they fell into disuse while Mrs. Spicer filled her life with the multiple duties of assisting her husband in carving a home out of the wilderness.
Those who knew Mrs. Spicer during her 54 years in Kerr County found her kind and reserved, keeping her place in the background until her advice or judgment was needed. Even up to the time of her taking ill she was lively and cheerful, her actions and the sparkle in her eye evidencing her pure joy in just being alive.
She was a true Christian, both in spirit and enterprise. She was a member of the Church of England and kept her faith in the Divine until the last. She was a Gold Star mother, having lost one of her sons, Robert, in France in 1918.
Another son, Claude died at an early age and her eldest daughter, Mrs. Emma Loeffler, died three years ago. Survivors were James Spicer, her husband; children, Mrs. Harry Crum, El Reno, Oklahoma, J.S.A. Spicer, Kerrville; Mrs. A. Macdowell, Kerrville, and Mrs. Mark Mosty, Kerrville; also 12 grandchildren and one great grandson.